**To Receive a print friendly (PDF) version of this article  Click Here**
 Nutrition
In modern culture, our food is loaded with toxins, fillers, additives and chemicals that disrupt the natural rhythm of our bodies.  To create an efficient and healthy brain and body, we must start with what we consume as fuel to improve focus and attention.
Not every additive will inflame those ADHD symptoms, first start with the items below to determine if it's the culprit to inattention and lack of focus.
Eliminate Red 40 (food coloring/artificial color) completely from diet. (Red dye can last up to 3 days in the body, so you may not see immediate improvement.
Eliminate High Fructose Corn Syrup (HFCS) from diet.
If eliminating Red 40 and HFCS from your child's diet doesn't help, in addition to those above, consider removing other additives, such as artificial flavors, other artificial colors, nitrates, nitrites, soy, gluten, sugar or dairy.
The Feingold Diet is a structured diet that parents will turn to for their children diagnosed with a ADHD.
Other diet and cookbooks to improve ADHD:
"Healing Without Hurting" is a great resource for treating ADHD without Meds.   The author is a therapist and has a son with Autism, so she is an expert in her field as a mother and a professional.  She also manages a Facebook Group  "ADHD Natural/Non Medication Children Support Group" and a Facebook Page, "Healing ADHD and Aspergers Without Hurting Jennifer Giustra-Kozek, LPC".
---
Supplements
Magnesium
Zinc
Omega 3 fatty acid
Vitamin B-6
Iron
Vitamin C
Recommended Multi Vitamins –
---
Essential Oils
Essential Oil Blends
I prefer to diffuse oils in our home simply to avoid measuring for dilution purposes, or skin irritations.  Applying topically can be beneficial and if you consider applying topically, please research how to dilute HERE.
Diffuse a blend of oils containing one or a combination of oils while studying or doing homework.  Also consider a diffuser necklace or bracelet for your child to wear to school.
Ask your child's teacher to diffuse a focus blend throughout the day.  Every child can benefit from a boost in Attention.
To receive a more comprehensive list of oils that help focus and attention, CLICK HERE
---
Exercise and Movement
Kids today need to move more, not just hyperactive kids.  Every child in the class can improve focus from frequent active breaks.
Allow several 5-10 minute breaks during the school day and in the afternoon while doing homework.  The mind of a child diagnosed with ADHD works best and is most effective during movement.  Do jumping jacks while reciting math facts.
---
Fidget Toys
Research has proven time and time again that children and adults with ADHD think, and focus best, when moving.  Allow your child/student to use a fidget toy in class or during homework time.
When my son was in the third grade his teacher let him quietly fidget with mini lego's during class.
---
Music
It seems counter-productive, but for children with ADHD, they tend to focus better when listening to music as they study or do homework.
Allow your child/student to use headphones if they would like, to complete assignments, study or complete homework.
---
CBD Hemp Oil
Since I initially wrote this article, I have learned so much about CBD Hemp oil and it benefits.  To see our other articles, just select CBD from the Menu at the top of our site.
If considering CBD, read my post "CBD: What To Know Before You Buy" and My Checklist to do your own research.
I also developed a calculator to help learn about how to dose and how to begin with CBD oil.  This calculator also helps you budget just how long a bottle will last you.
It's very important to do research since there are so many companies starting, hoping to cash in on this emerging market with cheap, synthetic CBD oil.  Please help me spread the word to always research and know a  company is reputable and a product is made using high quality standards.
My original posts…
I was worried about starting CBD Hemp Oil, but felt I at least owed it to my 13 year old son to give it a try.
I wasn't sure I should put it on this list since it's controversial, but remember, CBD Hemp Oil is legal in all 50 states because it does not contain (or only has trace amounts of) THC which is the substance that creates a "high" in cannabis.
I personally was looking for a product with zero HTC and found a product at HempMeds.
The first CBD hemp oil product of its kind, RSHO-X™ is a completely THC-free version of our customer favorite Real Scientific Hemp Oil™. Since RSHO-X™ contains absolutely no THC, the compound in cannabis that gets users high, it has become the CBD supplement of choice for parents of small children, first responders, competitive athletes, or anyone subject to a drug test. In fact, RSHO-X™ is the first cannabinoid supplement available that meets the rigid drug testing restrictions set forth by the World Anti-Doping Agency (WADA). Each 4 oz bottle comes with 1000 mg of CBD and absolutely no THC.
He struggles with focus and attention and also a mild delay in short term memory.  Therefore, vocabulary tests, review quizzes, and note-taking are difficult due to his learning disability, which in turn, compromised his self esteem.
We've been using CBD Oil for a week and it is amazing.  His teachers are emailing me about how much more attentive he is, and his grades have significantly improved.  His grades are not perfect, but improved, which is always a win in our house.
I've heard great things about CBDPure as well.  It's a great, affordable option to begin your CBD journey with and it has a 90 day guarantee.  If you don't see beneficial results in 90 days (which you should), just return the bottle for a full refund.  There is no downside!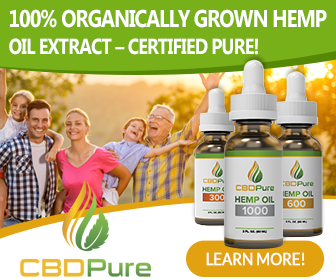 Organic/Non-GMO
Ships to all 50 States EXCEPT Arkansas, Indiana, Kansas and Louisiana.
Third Party Verified
Sourced from Denmark
90 Day Guarantee (100% Satisfaction or return the product or full refund within 90 days)
CBDPure has a high quality Oil Extract in three different strengths (100 mg, 300 mg and 600 mg). CBDPure is an affordable option with a 100% satisfaction guarantee policy. This company is a great place to start if you are just starting out.